COLLECTIONS
Pat & Rosemarie Keough's ANTARCTICA and/or LABYRINTH SUBLIME are available to the public and for scholarly research at more than 200 libraries, universities, museums, and institutions in 57 countries. The breadth of respect for the Keoughs' work is demonstrated by the collection interests which range from polar, environmental, and scientific studies to photography, bookarts, fine-press, fine binding, and rare books.
Canada
Alberta
Banff Centre Library
MacEwan University
Mount Royal University
University of Alberta
University of Calgary
British Columbia
Emily Carr University of the Arts
Gordon Smith Gallery of Canadian Art
Lester B Pearson College
Salt Spring Island Public Library
University of British Columbia
University of Victoria
Manitoba
University of Manitoba
University of Winnipeg
New Brunswick
Mount Allison University
University of New Brunswick
Newfoundland
Memorial University
Nova Scotia
Dalhousie University
Ontario
Brock University
Canadian Museum of Nature
National Library of Canada
Ontario College of Art & Design University
Queen's University
Ryerson University
Toronto Public Library
Trent University
University of Toronto
University of Waterloo
University of Windsor
Wilfrid Laurier University
York University
Saskatchewan
University of Regina
University of Saskatchewan

United States of America
Washington DC
Department of State, Ralph J. Bunche Library
Library of Congress
National Academy of Sciences
Alaska
University of Alaska Fairbanks
Arizona
Phoenix Public Library
California
California Institute of the Arts
California State Univerity, East Bay
California State University, Sacramento
Mill College at Northeastern University
University of California, Berkeley
University of California, Davis
University of California, San Diego
The Huntington Library
University of Southern California
Claremont College
Colorado
Colorado Christian University
University of Colorado at Boulder
Connecticut
Yale University
Florida
Florida International University
Univeristy of West Florida
Georgia
Emory University Library
University of Georgia
Illinois
Newberry Library
Northwestern University
University of Illinois at Urbana-Champaign
Iowa
University of Iowa
Louisiana
Louisiana State University
Maine
Bowdoin College
Maine College of Art & Design
Massachusetts
Harvard University
Montserrat College of Art
Smith College
Wellesley College
Michigan
Hillsdale College
University of Michigan
Missouri
Washington University in St. Louis
New Hampshire
Dartmouth College
New Jersey
Lafayette College
Princeton University
New York
Cornell University
Hamilton College
Rochester Institute of Technology
The Explorers Club
The Grolier Club
North Carolina
North Carolina State University
University of North Carolina at Chapel Hill
Ohio
Cleveland Institute of Art
Denison University
Kenyon College
Oberlin College and Conservatory
Oregon
University of Oregon
Pennsylvania
Franklin and Marshall College
Swarthmore College
Rhode Island
Brown University
Texas
Baylor University
Museum of Fine Art, Houston
Rice University
Texas A&M University
University of North Texas
University of Texas at Arlington
University of Texas at Austin
University of Texas at Dallas
University of Texas at San Antonia
Virginia
Chrysler Museum of Art
Washington
University of Washington
Washington State Library
Western Washington University

Australia
State Library of New South Wales
State Library of Victoria
University of Melbourne
Argentina
Antarctic Museum, Ushuaia Maritime Museum
Brazil
Federal University of Rio Grande do Sul
Chile
Chilean Antarctic Institute
Denmark
Danish National Library
Royal Danish Library
Ecuador
Ecuadorian Antarctic Institute
France
Museum of the French Polar Institute
Japan
National Institute of Polar Research
Malaysia
Sultan Mizan Antarctic Research Foundation
New Zealand
Auckland City Library
University of Auckland
Canterbury Museum
Pakistan
National Institute of Oceanography
Portugal
Calouste Gulbenkian Museum
National Sciences & Natural History Museum
University of Algarve
Spain
Instituto Geolóico y Minero de Espana
Ukraine
National Antarctic Scientific Center of Ukraine
United Kingdom
Natural History Museum
National Library of Scotland
The Royal Society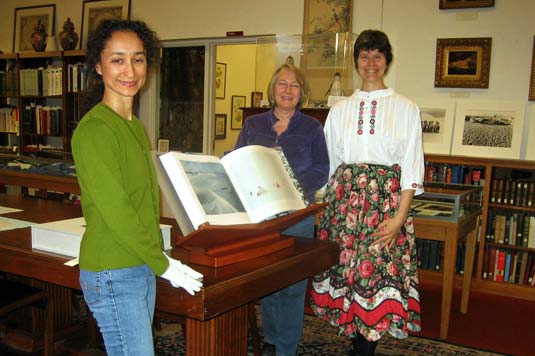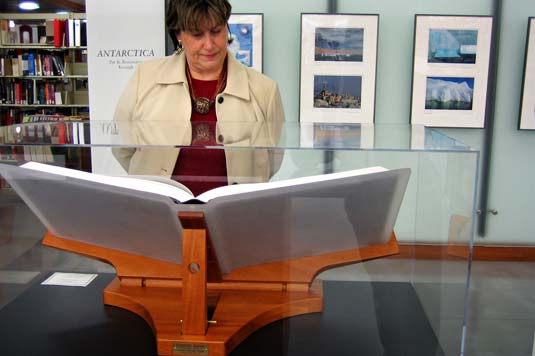 " I regularly feature the Keoughs' ANTARCTICA when photo-related classes
  come to our library and it remains a title that piques the interest of students
and faculty alike." Jon Evans — Director, Hirsch Library
Museum of Fine Arts, Houston
" Exhilarating. A remarkable piece of art. I never before realized
the color of Antarctica." Roy Flukinger — Senior Curator
Harry Ransom Humanities Research Center,
University of Texas
" Rosemarie and Pat put so much love and care into this book. It shows in
every page that we turn. It is one of the finest new books we've ever bought." Christine Vincent — Special Collections Librarian
University of Colorado at Boulder
" I love to show ANTARCTICA to students and faculty and watch their jaws drop.
Then I explain what went into the making of this book — artistic vision, technical
quality, production values and painstaking attention to every detail — and watch
their jaws drop even farther. It's an absolutely stunning addition to our growing
Artists' Books Collection." Diane Shaw — Special Collections Librarian
Lafayette College
" At Yale University, ANTARCTICA is permanently on display in the Arts of the
Book Collection and this piece catches the attention of everyone who walks
in to the reading room. This work is the perfect start to a conversation about what
a book can be and how a well designed and constructed book can add to the
knowledge inside it. Every aspect of ANTARCTICA is well done and worth
consideration, from the physical construction, to the layout, to the photography,
which gives me many possible ways this book can help with our educational mission.
With this one work, I can connect with graduate students from the School of Art,
as well as undergraduates in the humanities and the sciences. The beauty of the book
draws in the students, and the durability allows me to feel free to use it again
and again without worrying about its fragility."
Jae Rossman — Special Collections Librarian
Arts Library, Yale University
" ANTARCTICA por Rosemarie and Pat Keough excede todas as expectativas,
tanto na qualidade das photographies, no material usado para impressão e
encadernação. Um livro e uma obra de arte para exposição em museus
e bibliotecas!
ANTARCTICA by Rosemarie and Pat Keough exceeds all expectations, in
the quality of the photographs, and the material used for printing and binding.
The book is a work of art for exhibition in museums and libraries!"
Dr. Jefferson Cardia Simões Vice-President, (SCAR/ICSU)
Brazilian Antarctic Programme. Centro Polar e Climático
Instituto de Geociências, Universidade Federal do Rio Grande do Sul

" ANTARCTICA is incredible. It is the best example of modern fine-press
photobook and binding that we have and will be of great use to our photography
and book arts students." Catherine Robertson — Paul M. Scott Library
Monserrat College of Art
" ANTARCTICA is the most beautiful book to cross my desk in 20 years." Wendy Witt — Aquisitions
University of Texas at San Antonio, Library
" ANTARCTICA was delivered yesterday afternoon and we're absolutely
  delighted to have it. It's so much more stunning "in person" than on the web!
  We are most grateful to you for thinking of our collections and for
  enriching them in such a beautiful way."
Lynda Corey Claassen — Director, Special Collections & Archives
University of California, San Diego
" It is an utterly beautiful book. I am looking forward to sharing it with our photo
  department as well as our print department as an example of exemplary binding.
  And the clamshell box is perfection."
Laura Ponikvar — Director, Jessica R. Gund Memorial Library
Cleveland Institute of Art, Cleveland
" ANTARCTICA will make a fantastic addition to our artists' books and
photography collections, as well as our subject strength in Antarctic exploration.
We look forward to using it for cassroom instruction and future exhibitions."
Christopher Raab — Assoicate Librarian, Archives & Special Collections
Martin Library, Franklin & Marshall College
" We are greatly impressed at the quality of both the book and customized enclosure.
The materials are all top quality, and we love the variety of textures involved.
(I especially like the blue/grey velvet doublures and custom "ice pack" fly sheets.
It is quite the visual and tactile experince as you first engage with the volume!)
The photography is also outstanding, and the entire product a genuine work of art.
I love the mix of landscape, seascape, wildlife, and close-up photogrpahy.
And the light capture is fantastic. A wonderful and inspiring collection of images."
Christopher Raab — Assoicate Librarian, Archives & Special Collections
Martin Library, Franklin & Marshall College
" Absolutely gorgeous. What an exciting book."
Dean Debolt — University Librarian/Archivist
University of West Florida Library
ANTARCTICA is in the libraries of the following:

43 SCAR National Antarctic Research Programs:
Argentina, Australia, Austria, Belgium, Brazil, Bulgaria, Canada, Chile, China, Colombia, Czech Republic, Denmark, Ecuador, Finland, France, Germany, India, Iran, Italy, Japan, Korea (ROK), Malaysia, Monaco, Netherlands, New Zealand, Norway, Pakistan, Peru, Poland, Portugal, Romania, Russia, South Africa, Spain, Sweden, Switzerland, Thailand, Turkey, Unitied Kingdom, Ukraine, Uruguay, USA, Venezuela.

54 Antarctic Treaty Parties: Head of Government
Argentina, Australia, Austria, Belgium, Belarus, Brazil, Bulgaria, Canada, Chile, China, Columbia, Costa Rica, Cuba, Czech Republic, Denmark, Ecuador, Estonia, Finland, France, Germany, Greece, Guatemala, Hungary, Iceland, India, Italy, Japan, Kazakhstan, Korea (DPRK), Korea (ROK), Malaysia, Monaco, Mongolia, Netherlands, New Zealand, Norway, Pakistan, Papua New Guinea, Peru, Poland, Portugal, Romania, Russia, Slovakia, Slovenia, South Africa, Spain, Sweden, Switzerland, Turkey, Ukraine, Unitied Kingdom, Uruguay, USA, Venezuela.

Yale University maintains a complete archive of the Keoughs' bookarts endeavours.
As shared November 2013
Momentous for the Keough is their relationship with Yale University. Jae Rossman, Assistant Director for Special Collections, Robert B. Hass Family Arts Library, spent a week at the Keough home and studio earlier this year reviewing materials in stored in filing cabinets and boxes. Subsequently she wrote to the Keoughs that Yale is "honored to become the caretakers of your archive, providing access to researchers, artists, and students so that they can learn from your impressive careers." She said that this is the "dream collection" inclusive of storyboards, drafts, production proofs, brass dies, correspondence, budgeting, accounting, media reviews and interviews etc. Thus far two shipments of heavy boxes of archived documents have been forwarded to Yale. The Keoughs had quite the time adding file notes, removing duplication etc, so that future academics/researchers have a complete picture of what has gone into the creation of their works over these past three decades. There is much more to put together, and this is a great start. The Keoughs are committed to continue to forward materials as long as they are involved with photography and the book arts – which likely will be for the rest of their lives. Of note, the Keoughs are the first (and as of 2013, the only) Canadians whose archives is maintained in Yale's Arts Library archives.