Specifications
ANTARCTICA is forever limited to a single edition of 950 plus proofs, each individually signed by the Keoughs and by Queen Noor.

The 336 pages include 330 full-colour photos and 15 duatones by Pat & Rosemarie Keough.

ANTARCTICA is substantial. In its accompanying presentation box the tome weighs 27.6 lbs (12.5 kg). and has dimensions of 18.25" x 15" x 3.75" (46cm x 38cm x 9cm). The volume itself is 17.25" x 13.5" x 2.5" (44.5cm x 34cm x 6.5cm).

This collection of fine photography is elegantly bound in Canada by hand, using skills and techniques that date to the 15th century. The tactile experience of ANTARCTICA is enhanced by luxurious, archival materials. Genuine morocco tanned in Scotland clad the heavy, leather covers. This fine goat leather is also specified for the flyleaf joints. The doublures are inlaid with French flocked-velvet, this lovely material also incorporated on the flyleaves. For the sewing, strong Irish linen thread and linen tapes are used. Dutch linen and French velvet clad the presentation box. The images are superbly printed in Canada on thick, acid-free, American paper with light-fast German inks.

To appreciate the enormous effort and attention to detail sustained from start to finish by the Keoughs and each the the master Artists and Craftsmen who have worked on this project, please refer to Creating Keough Tomes.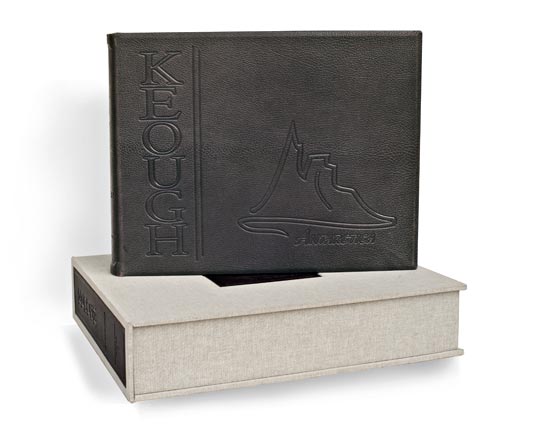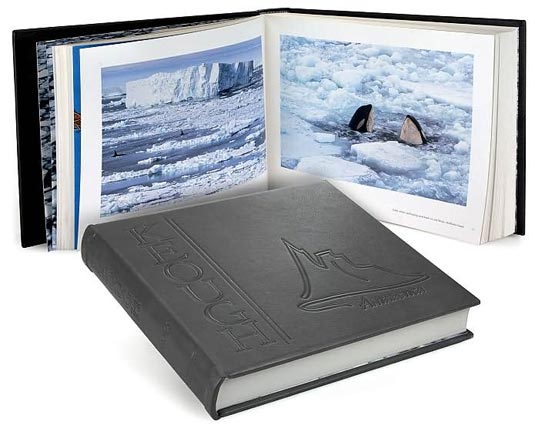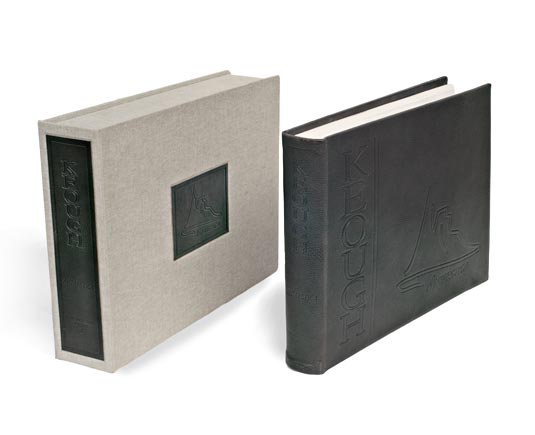 " Excellence is the grail of the modern world. A Canadian couple has reached it, without funding or dependence or even a breath of complaint.
Just old-fashioned application, a lot of love and commitment, and a passion
for the most beautiful and fragile places in the world. "
&nbsp &nbsp National Post